2020 Kia Sportage in Denver for sale or lease at Peak Kia
Introducing the 2020 Kia Sportage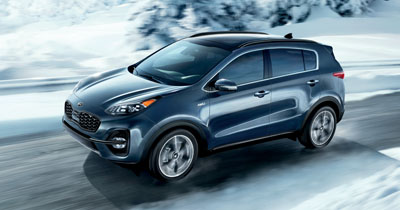 If you're looking for a stylish, reliable, and affordable do-it-all car, then the Kia Sportage 2020 is the vehicle for you. The car is one of Kia's most advanced models and is now available right here at Peak Kia in Denver, Colorado.
The Kia Sportage is an excellent SUV and a leader in its class. It looks great, has tonnes of tech features and a user-friendly entertainment system. While some rivals might claim to offer a premium experience, this is arguably no longer the case, with the Kia outperforming practically every model on the market when it comes to comfort.
There's another reason the 2020 Kia Sportage is extremely popular right now in Denver, Colorado: the compact ride. The 2020 Sportage is ideal for anyone living in the suburbs who has to travel into the city, find parking spaces, and navigate city streets. The car offers all of the utility of an SUV, but with none of the size premium.
Is it suitable for luggage? You bet it is. The standard boot is enormous, thanks to the large chassis and open design. You can also put the seats down for transporting all kinds of things, from bikes to skis.
2020 Kia Sportage Trim Levels
The Sportage comes in a variety of trim levels. The Sportage LX uses a special kind of stain-resistant cloth fabric that resists spills, making it the perfect choice for busy families in Denver, Colorado. The premium EX version of the vehicle comes with full leather seating. The EX also offers more flexible accommodation, offering a ten-way adjustable driver's seat, whereas the LX's is six-way. Finally, the EX gets an upgraded touchscreen display with a seven-inch screen compared to the five-inch of the LX.
What about remote start? If you're interested in a vehicle with a remote start, then you're in luck. The 2020 Kia Sportage features remote start technology that allows you to start the car from more than 500 feet away remotely. This feature means that you can start your car from any location in your home, get the engine running, and warm the interior before setting off on a cold day.
The Dependability of Kia
Kia probably makes the most reliable cars in the world, and the 2020 Sportage is no exception. Many of the worlds leading news media put Kia right at the top of the league tables for the vehicles that break down the least.
The reason for their dependability has to do with tried-and-tested manufacturing methods. Kia builds a large amount of redundancy into its vehicles, helping them to stay on the road for longer. It's why they can afford such incredible warranties to drivers in Denver, Colorado.
The Kia Sportage 2020 is also a highly economical car. The two-wheel driver 1.6 diesel version of the vehicle will deliver 57.6 mpg with a manual gearbox. If you use Kia's DCT automatic, then it'll provide 58.9 mpg, which is excellent for a vehicle in its class.
Set your appointment to drive the 2020 Kia Sportage
Are you interested in buying a Kia Sportage in Denver, Colorado? If so, make sure you check out our collection here at Peak Kia.
Sales Hours
303 904-7800
| | |
| --- | --- |
| Monday | 8:30 am - 8:00 pm |
| Tuesday | 8:30 am - 8:00 pm |
| Wednesday | 8:30 am - 8:00 pm |
| Thursday | 8:30 am - 8:00 pm |
| Friday | 8:30 am - 8:00 pm |
| Saturday | 8:30 am - 7:00 pm |
| Sunday | Closed |
Testimonials
Mike Topolosky is the best salesman i have ever gotten the chance to work with
4-1-2019
I highly recommend James at Peak Kia Littleon
3-27-2019
Great customer service
3-20-2019
Very professional service
3-18-2019
We highly recommend Sannon!
3-16-2019
Peak Kia has the BEST service department
3-11-2019
Very nice and professional!
3-2-2019
This place is always a pleasure to visit, the entire staff is great to work with
2-27-2019
This is a great dealership
2-25-2019
Working with Steven was very easy
2-23-2019
Fabulous. Fast and helpful.
2-22-2019
Just, wow! Such an awesome team to work with
2-20-2019
The staff was friendly
2-19-2019
Professional, knowledgeable and NICE!
2-18-2019
Awesome customer service from Trey!
2-15-2019
Exceptional service
2-9-2019
Casey really did an excellent job of helping me find a new car
2-8-2019
The whole process was too easy
2-5-2019
They are always very friendly and professional
1-23-2019
Peak Kia is an outstanding dealer!
1-21-2019
Read More