2020 Kia Sorento in Denver for sale or lease at Peak Kia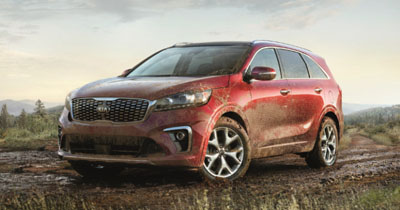 Are you looking for the 2020 Kia Sorento in Denver for sale? Well, you're in luck. At Peak Kia, we are delighted to say that we do have this vehicle available right now. We don't think you'll be disappointed with what this new car has to offer to eager buyers. From fresh tech to advanced driving mechanics, this car is going to serve you well on the roads.
The 2020 Kia Sorento - A Luxurious Vehicle
One of the first things that you will notice about the Kia Sorento is that it does provide an upmarket feel. This includes both the interior and exterior of the car. You'll be delighted by the details and efforts to ensure that this car looks great and feels fantastic.
It's one of the reasons why we can confidently say that the car provides fantastic value and will serve you well for years. We are also thrilled to offer a long warranty with this vehicle. That should provide you the peace of mind you need when you're committing to the purchase of a new car like this.
Fantastic To Drive
Another big benefit of the 2020 Kia Sorento is that it does provide a brilliant drive. You won't be disappointed with how this feels on the road. This is solid driving experience and it runs near silently as well. Particularly if you opt for the new hybrid model.
The car is incredibly responsive and delivers natural steering that feels great. So, even if you are driving along the winding roads to the Red Rocks Park, you'll feel completely secure behind the wheel of this vehicle.
A Cost Friendly Price
At Peak Kia, we are delighted to offer some of the most competitive prices for our vehicles on the market and this does include the 2020 Kia Sorento. We think you'll struggle to find a better deal elsewhere on the market and you will love the value that this car provides. We are also able to offer a range of different payment options. So, you will be able to find a choice that does match your individual needs and requirements.
Service With A Smile
When you buy a vehicle, it can be difficult to find a dealer that you can trust. We have worked to build up a solid reputation as a dealer that our clients can rely on. We are always happy to answer any questions and ensure that you get the expert support that you want. We know how significant buying a new car can be and we will help ensure you know that the 2020 Kia Sorento is the right choice for you.
If you would like to learn more about the 2020 Kia Sorento for sale in Denver, do make sure that you contact us today. We will be happy to provide further information and ensure that you can make an informed decision before committing to the purchase of this vehicle. Our experts are always on hand to help buyers make the right choice for their next vehicle when they visit Peak Kia.
Sales Hours
303 904-7800
| | |
| --- | --- |
| Monday | 8:30 am - 8:00 pm |
| Tuesday | 8:30 am - 8:00 pm |
| Wednesday | 8:30 am - 8:00 pm |
| Thursday | 8:30 am - 8:00 pm |
| Friday | 8:30 am - 8:00 pm |
| Saturday | 8:30 am - 7:00 pm |
| Sunday | Closed |
Testimonials
Mike Topolosky is the best salesman i have ever gotten the chance to work with
4-1-2019
I highly recommend James at Peak Kia Littleon
3-27-2019
Great customer service
3-20-2019
Very professional service
3-18-2019
We highly recommend Sannon!
3-16-2019
Peak Kia has the BEST service department
3-11-2019
Very nice and professional!
3-2-2019
This place is always a pleasure to visit, the entire staff is great to work with
2-27-2019
This is a great dealership
2-25-2019
Working with Steven was very easy
2-23-2019
Fabulous. Fast and helpful.
2-22-2019
Just, wow! Such an awesome team to work with
2-20-2019
The staff was friendly
2-19-2019
Professional, knowledgeable and NICE!
2-18-2019
Awesome customer service from Trey!
2-15-2019
Exceptional service
2-9-2019
Casey really did an excellent job of helping me find a new car
2-8-2019
The whole process was too easy
2-5-2019
They are always very friendly and professional
1-23-2019
Peak Kia is an outstanding dealer!
1-21-2019
Read More