2020 Kia Rio in Denver CO for sale or lease at Peak Kia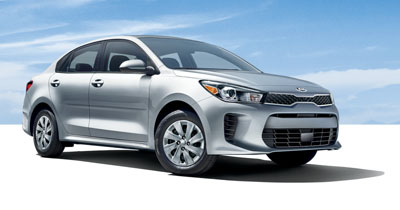 Are you looking to start the New Year in style with a brand new car? If so, Peak Kia has got you covered. Offering the incredible 2020 Kia Rio at Peak Kia for sale in Denver, CO; you can banish winter blues and start 2020 as you mean to go on.
Introducing the 2020 Kia Rio
The new 2020 Kia Rio builds on the successes of the previous generation of Kia Rio models to bring drivers in Denver, CO a host of incredible features and an unbeatable driving experience. Suitable for a diverse range of motorists, including commuters, parents and city drivers, this versatile vehicle has attracted plaudits for its style and speed upgrades. The newest version of the Rio is sporty and cool and it's more responsive than its predecessors, but it retains the excellent safety and reliability record of former models.
If you fancy cruising past Union Station, taking the kids to Denver Zoo or enjoying the thrills and spills of Lakeside Amusement Park, a 2020 Kia Rio is the perfect companion.
What's so good about the 2020 Kia Rio for sale at Peak Kia in Denver, CO?
At Peak Kia, we pride ourselves on offering our customers in Denver and beyond access to the best new models on the market, and we're delighted to unveil the amazing Rio 2020. Based on the popular first and second generations of the Kia Rio, the 2020 model offers a range of additional benefits that are designed for the modern driver. Here are some key features:
● Entertainment: enjoy every trip, long or short, with voice-controlled radio, smartphone compatibility (Apple Play and Android), touch control infotainment screen and in-built Google apps
● Stay connected on the go with electronic messaging and read function, Bluetooth connectivity and voice command calls
● Keep an eye on your mileage and fuel consumption with digital displays
● Enjoy enhanced safety with warning lights, rearview cameras and child seat anchors
● Get comfortable and travel in style with a plush interior and adjustable seats and headrests. You can also quench your thirst with handy cup holders.
● Enjoy spontaneous breaks, trips to the park or hassle-free grocery store visits with a spacious trunk
Previous versions of the Kia Rio have been praised by motorists looking for safe, reliable cars that are suited to daily commuting, town and city driving, school runs and driving long distances. The 2020 Kia Rio represents a step up in terms of design and features, offering Denver, CO drivers the opportunity to take advantage of all the perks of the previous models with a host of added bonuses thrown in. This vehicle caters for the demands of driving in the 21st century, enabling you to keep in touch with loved ones on the go, to work on the move and to enjoy a seamless, stress-free and safe driving experience.
Keen to find out more?
If you like the sound of the 2020 Kia Rio, and you're looking for a reliable, trustworthy dealership in Denver, Colorado, why not get in touch with the team at Peak Kia today? We can provide you with information about the latest Rio model and give you more details about the deals on offer.
Sales Hours
303 904-7800
| | |
| --- | --- |
| Monday | 8:30 am - 8:00 pm |
| Tuesday | 8:30 am - 8:00 pm |
| Wednesday | 8:30 am - 8:00 pm |
| Thursday | 8:30 am - 8:00 pm |
| Friday | 8:30 am - 8:00 pm |
| Saturday | 8:30 am - 7:00 pm |
| Sunday | Closed |
Testimonials
Mike Topolosky is the best salesman i have ever gotten the chance to work with
4-1-2019
I highly recommend James at Peak Kia Littleon
3-27-2019
Great customer service
3-20-2019
Very professional service
3-18-2019
We highly recommend Sannon!
3-16-2019
Peak Kia has the BEST service department
3-11-2019
Very nice and professional!
3-2-2019
This place is always a pleasure to visit, the entire staff is great to work with
2-27-2019
This is a great dealership
2-25-2019
Working with Steven was very easy
2-23-2019
Fabulous. Fast and helpful.
2-22-2019
Just, wow! Such an awesome team to work with
2-20-2019
The staff was friendly
2-19-2019
Professional, knowledgeable and NICE!
2-18-2019
Awesome customer service from Trey!
2-15-2019
Exceptional service
2-9-2019
Casey really did an excellent job of helping me find a new car
2-8-2019
The whole process was too easy
2-5-2019
They are always very friendly and professional
1-23-2019
Peak Kia is an outstanding dealer!
1-21-2019
Read More