2019 Kia Sportage in Denver for sale or lease at Peak Kia
If you're looking to purchase the 2019 Kia Sportage in Denver Colorado, Peak Kia is the ideal place. With a range of new vehicles and pre owned vehicles, we know that we have the Kia for you.
Here, we're going to go into more detail about the 2019 Kia Sportage so you can decide whether this is the vehicle for you. Take a look:
The 2019 Kia Sportage at Peak Kia in Denver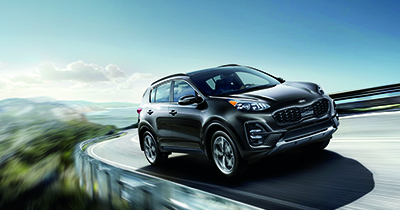 The 2019 Kia Sportage has plenty of kit on board. It's reasonably agile and roomy too, with it being described as 'built for life's adventures'. This means that whether you're planning on heading to Denver Zoo, Denver Art Museum, or somewhere else, you have a car that is more than equipped for the job.
With this vehicle, you can drive outside of the box in a modern compact crossover that defies conventions. The exterior is both elegant and extroverted, with sleep lines and sweeping curves. It's definitely a car designed for those who want to stand out, as it has a signature bold look that really catches the eye. The Kia Sportage always gives a sense of adventure with its dynamic styling.
It isn't just the exterior that gets people talking, though; the comfortable interior is something to shout about, too. The driving environment is one of the most comfortable out there, while able to serve every functional need with ease. You can see the premium craftsmanship even only at a glance, with upgraded seats with scientifically calibrated touch points and sumptuous materials.
The design is purely driver oriented, not only designed for comfort but for safety too. The angled console, displays, and buttons are all ergonomically optimized, and the Kia Sportage prides itself on its smarter approach to driving.
The Sportage may know before you do that its time to brake, with the Autonomous Emergency Braking (AEB) that monitors vehicles ahead of you. If unable to prevent a collision, it will work to reduce the impact.
The blind spot detection system will reduce blind spots on the side of the car, and the Rear Cross Traffic Alert (RCTA) system scans for passing cars, motorcycles, and/or other vehicles as you reverse.
The car will warn you of objects not in your field of view so you can drive confidently. The Lane Departure Warning System (LDWS) monitors the position of your Sportage using a windshield-mounted camera. If the system detects you veering from your lane, without using the turn signal t will provide audible and visual warnings. Of course, there's also the parking assist front and rear system feature.
With all of the features included on the Kia Sportage, you know that wherever your adventures take you in Denver Colorado , you can handle anything.
Contact Us Today To Learn More About The Kia Sportage
We have lots of positive reviews and testimonials on our website, as well as live customer service chat, so you can have peace of mind when you choose to buy your 2019 Kia Sportage from us. Don't hesitate - get in touch today and see how we can help you!
Sales Hours
303 904-7800
| | |
| --- | --- |
| Monday | 8:30 am - 8:00 pm |
| Tuesday | 8:30 am - 8:00 pm |
| Wednesday | 8:30 am - 8:00 pm |
| Thursday | 8:30 am - 8:00 pm |
| Friday | 8:30 am - 8:00 pm |
| Saturday | 8:30 am - 7:00 pm |
| Sunday | Closed |
Testimonials
Mike Topolosky is the best salesman i have ever gotten the chance to work with
4-1-2019
I highly recommend James at Peak Kia Littleon
3-27-2019
Great customer service
3-20-2019
Very professional service
3-18-2019
We highly recommend Sannon!
3-16-2019
Peak Kia has the BEST service department
3-11-2019
Very nice and professional!
3-2-2019
This place is always a pleasure to visit, the entire staff is great to work with
2-27-2019
This is a great dealership
2-25-2019
Working with Steven was very easy
2-23-2019
Fabulous. Fast and helpful.
2-22-2019
Just, wow! Such an awesome team to work with
2-20-2019
The staff was friendly
2-19-2019
Professional, knowledgeable and NICE!
2-18-2019
Awesome customer service from Trey!
2-15-2019
Exceptional service
2-9-2019
Casey really did an excellent job of helping me find a new car
2-8-2019
The whole process was too easy
2-5-2019
They are always very friendly and professional
1-23-2019
Peak Kia is an outstanding dealer!
1-21-2019
Read More